Quickly Mount ISO files with internal virtual drive
Easy to create ISO file from CD/DVD-ROM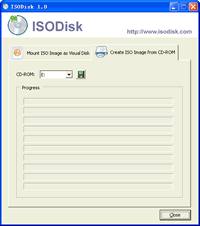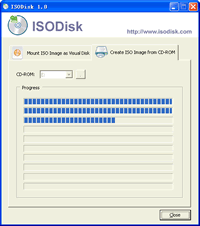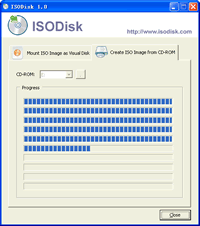 What is ISODisk

ISODisk is a FREE and powerful ISO disk image file tool, allows you to create virtual CD/DVD driver up to 20 drivers, mount an .ISO disk image and access the files on it as if it were burned to CD or DVD. This free program can quickly create ISO image file from CD/DVD-ROM, with ISODisk, you don't need install any other virtual drive software. Once you map the archive to a virtual drive, you can be able to view the contents in Windows Explorer.




ISODisk


Please Note: for Windows 7 users, the creating ISO file feature can work fine, but the mounting feature can't work correctly.


For Windows 7 (32-bit) users, for mounting ISO file, you can use the free tool from Microsoft - Virtual CD-ROM Control Panel.




Virtual CD-ROM Control Panel


After you download and unzip, you should run VCdControlTool.exe as administrator (right click on the program and click "Run as administrator"). How to use: launch this program and click "Driver Control" button, then click "Install Driver" to select the file VCdRom.sys (in the same folder with program), then click "Start" and click "OK" to exit, then click "Add Drive" and click "Mount" to select a ISO file. Please note: it cannot work with 64-bit OS.


ISODisk's Features


Mount ISO image files to as an internal virtual CD/DVD device.
Can mount ISO image on Local Area Network.
Can create virtual CD/DVD driver up to 20 drivers.
Quickly create ISO file from CD/DVD-ROM.
Very easy to use.

System Requirement:
Windows XP/2003/Vista operating system.
Intel Pentium 166MHz or above.
64MB memory.
At least 10MB hard disk space.